8:1 Supervision = $205 (5 day week) and $160 (4 day week)
3:1 Support = $250 (5 day week) and $200 (4 day week)
1:1 Support = $375 (5 day week) and $300 (4 day week)
Bring your own 1:1 support worker = $90 (5 day week) and $72 (4 day week)
For Ages 5-9
Monday-Friday 9am-4pm
Extended care available
8:30-9am $5 a day per child & 4-5pm $5 a day per child
---
ABOUT HEARTLAND'S DAY CAMP:
Heartland Forest has offered an inclusive summer camp since 2011, from the very beginning it has been our mission to inspire kids with an interest in the natural environment and sports and recreation to learn and grow
Each week of camp is filled with Discovery! Children will be given the opportunity to experience various forms of:
Games
Wilderness Wonders
Survival Skills
Nature Crafts
Campfires
Outdoor Challenges
An Outback Trek
Experiments
Marksmanship Skills
Scavenger Hunts
*NOTICE – If you have a child with special needs please see below "Special Needs Campers"
We reserve the right to remove your child from camp if any known behavioural needs or concerns have not been declared prior to attending camp. This ensures the safety and well-being of all camp participants and enables your child to have the best camp experience.
---
SPECIAL NEEDS CAMPERS: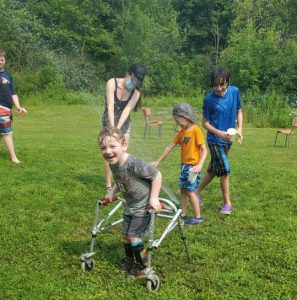 Heartland Forest is proud to offer an inclusive summer camp. If your child has any level of special needs (identified or suspected: behavioural; communication; developmental; intellectual; physical; emotional; social) – you will require an interview. Heartland's Adventure Camp utilizes trails and facilities located on 200 acres, the purpose of the interview is for parents to better understand what a typical week looks like at our camp, and for our staff to understand the needs and likes of your child.
To arrange an interview for 3:1 and 1:1 registration, email lisa.staton@heartlandforest.org
---
3 separate camp cohorts of 16 campers each
Full week registration only, no single days
This modified camp follows new guidelines for Camp from the Ontario Ministry Health.
Ministry of Health COVID-19 Safety Guidelines for: Day Camps
Public Health Ontario Daily Camp Operations: COVID-19 Preparedness and Prevention for Day Camps
Public Health Ontario Pre-camp Planning: COVID-19 Preparedness and Prevention for Day Camps
COVID-19 Precautions When Working in Day Camps
The health and safety of campers and staff are of utmost importance.
More individual activities or activities that encourage more space between camp participants have been incorporated.
Camp Staff and additional maintenance staff have been trained to follow all COVID 19 guidelines, ensuring enhanced cleaning measures are adhered to.
Cohorts will use separate locations taking advantage of Heartland Forest's vast outdoor amenities throughout the program.
Campers are required to bring their own lunch, snacks, sunscreen, hats, water bottles, and a mask. Masks are not required to be worn all of the time however, should physical distancing be a challenge, campers will be requested to put on their mask.
All information is subject to change based on Provincial regulation and changes to Emergency Orders.
WITH SPECIAL THANKS TO OUR SPONSORS!