Book your Fall and Winter visits now
OUTDOOR EXPERIENTIAL EDUCATION
Integrated learning ~ Stewardship ~ Critical thinking skills Making connections ~ Cross-curricular
There is a minimum booking fee of 20 students.
Please contact: melanie.stewart@heartlandforest.org directly for bookings of more than 100 children.
Please pick the time slot closest to the busing availability.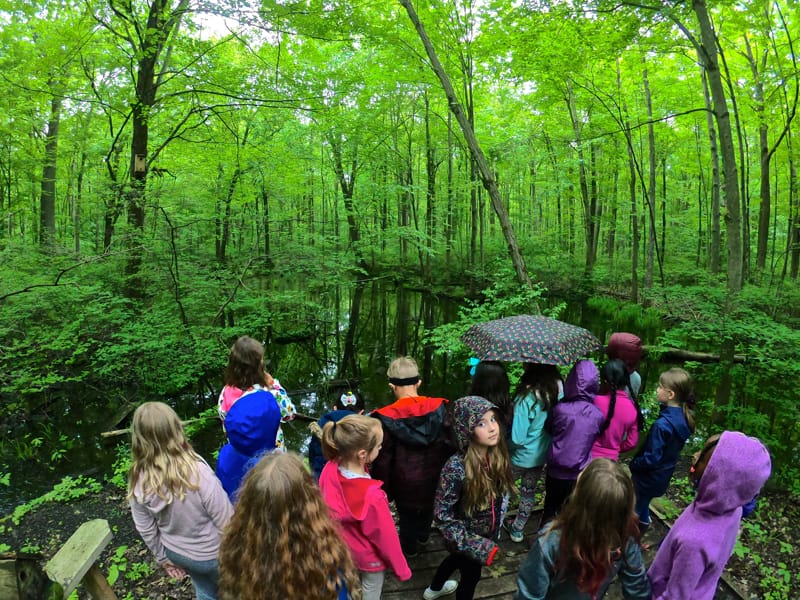 ---
Programs tailored to curriculum links JK – Gr.12
Fabulous Fall Forest Sept – Dec *ELKP- 8
Investigate the mysterious lives of bats, owls, snakes and spiders . Discover the hidden talents of these creatures with hands on activities and challenges. $11.5/student
Fall Fest Visits Oct *ELKP – 8

Includes Fabulous Fall Forest program plus a train ride and pumpkin.
$14.5/student
Trees Please Oct – Apr Gr 3+
Explore Heartland Forest and learn tree id and fun facts about our beautiful deciduous forest. Parts of a plant, life cycle, adaptations, forest community, Human uses through history, human impact, and how we benefit from the trees and plants around us are covered through interactive game stations. Includes tree craft – grade 3
$11.50/student
Ecosystems Investigation Sept – Nov and April – June *Gr 6- 10
Participate in the ongoing monitoring programs conducted here at Heartland Forest. Visit our Malaise trap (inventory of aerial insects), benthic investigations including collecting at our new boardwalk/observation tower and soil sampling. Students use critical thinking skills to discuss the effects of human activity on the populations of terrestrial and aquatic ecosystems. A scavenger hunt and team games enhance learning outcomes.
$11.5/student
Migrate, Hibernate or Adapt Nov – Mar *ELKP – 8
A guided trail hike interprets the biodiversity of Heartland Forest's Provincially Significant Wetlands. Become familiar with the mammal species of Ontario through field assessment of tracks and signs. A hands on examination of wildlife artifacts opens discussion on adaptations for migration and hibernation along with physiological changes. Roast a marshmallow and warm up at our campfire. Includes tracking craft to take home.
$11.5/student
Winter Wonderland Nov – Dec *pre-school, ELKP – 2
Stay warm and cozy in our nature centre and then explore outdoors! take a journey through the life cycle of a tree and meet some native conifers. Then play our deer game to compare physical differences between caribou (reindeer), moose, elk and our local white tailed deer. Head outside to go tracking along our forest trail. Roast a marshmallow at our campfire, enjoy a train ride (weather permitting) and warm up with delicious apple cider back at our nature centre.
$11.5/student
Frogfest Apr – May *ELKP – 8
Explore interactive learning stations featuring frogs and other creatures. Foster stewardship of the natural environment. Check out our FrogFest page coming soon
$11.5/student
Year End Trips June *ELKP – 8
Spend an exciting morning on a guided discovery tour with interactive learning stations and a scavenger hunt. Enjoy your snack and picnic lunch under a pavilion, try out our obstacle course, take a StoryWalk on the forest trail, explore the playground, have a game of mini-putt and take a train ride.
$12.5/student
Team Challenge with Low Ropes Sept – Nov, April – June *grade 4 (age9) and up
Our certified instructors guide students through course challenges designed to develop communication, problem solving teamwork and physical skills. weather dependent 2 hour program $8/student
Introduction to low ropes addon.
$5/student

Adults $4.00 Staff complementary
Picnic pavilion reservation included
Add a train ride to any program
$1/student (min. $20)